Hi there! Want to learn how any brand can set up a successful influencer marketing strategy?
Well that's exactly what we built linkr for. linkr is an influencer marketing tool that enables you to:
Find influencers across dozens of categories based on demographics and interests

Easily setup cooperations across channels such as TikTok, YouTube and Instagram

Use templates created by a global team of influencer marketing experts to quickly get started

Easily manage requests and send out product samples

As well as track performance, automate payments and generate invoices.
In short, we want to help you build a winning influencer marketing programme for your business :)
Over the past 5 years linkr has worked with thousands of influencers and hundreds of brands, we have used that data to build a curated network of people that can help promote your products on social media.
Let's take a look inside, show you how linkr can help you too:
When you register for linkr you get access to a dozen best in class campaign templates, created by seasoned professionals from top agencies all across the globe. You can use these to get your first campaign going in under 5 minutes, We cover anything from Instagram Stories to TikTok, Reels, YouTube Videos and more.
Need a bit more control? Use the advanced wizard to completely customize every aspect of your campaign:

Did I mention we support multi-language campaigns as well? So you can roll-out a campaign in different countries across the globe, great stuff right:)!
Next to that, linkr has a neat little trick, it allows you to directly add products to a campaign, including availability and variants. Now influencers can see and select which product, size, shape, color etc.. they would like to promote, directly from within linkr, without requiring you to send dozens of emails back & forth, which saves you lots of time!
Influencer application screen (campaign):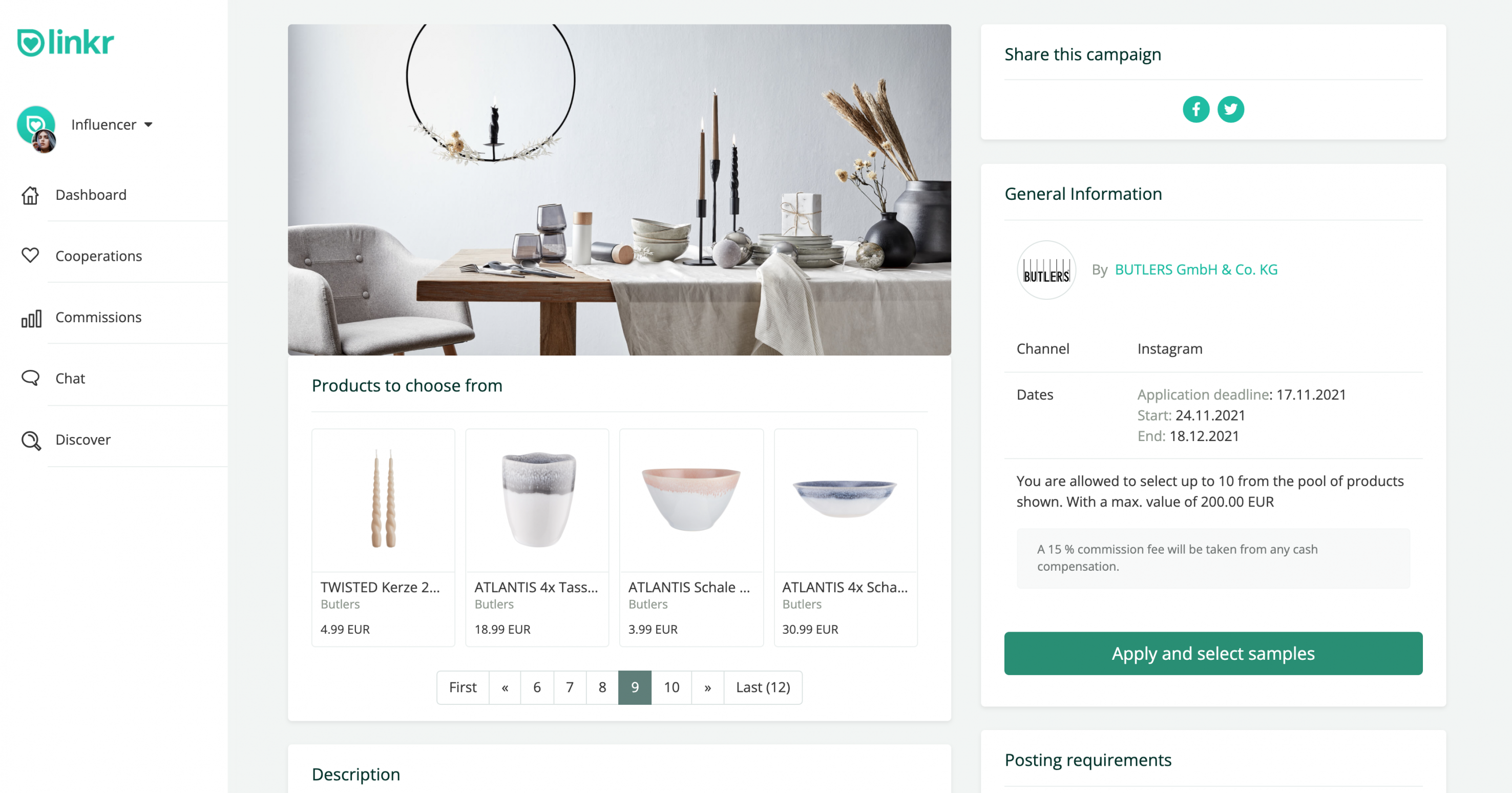 As no two cooperations are the same, we built linkr to support a multitude of scenarios.
You can choose to compensate influencers just with product samples, pay them a fixed fee or let them create individual offers. A brand new feature now also allows you to compensate influencers with a performance based fee, we track who sold what through personalized tracking codes and you can then share a % of the revenue with the influencer, its a real win win.
Compensation models you can choose from: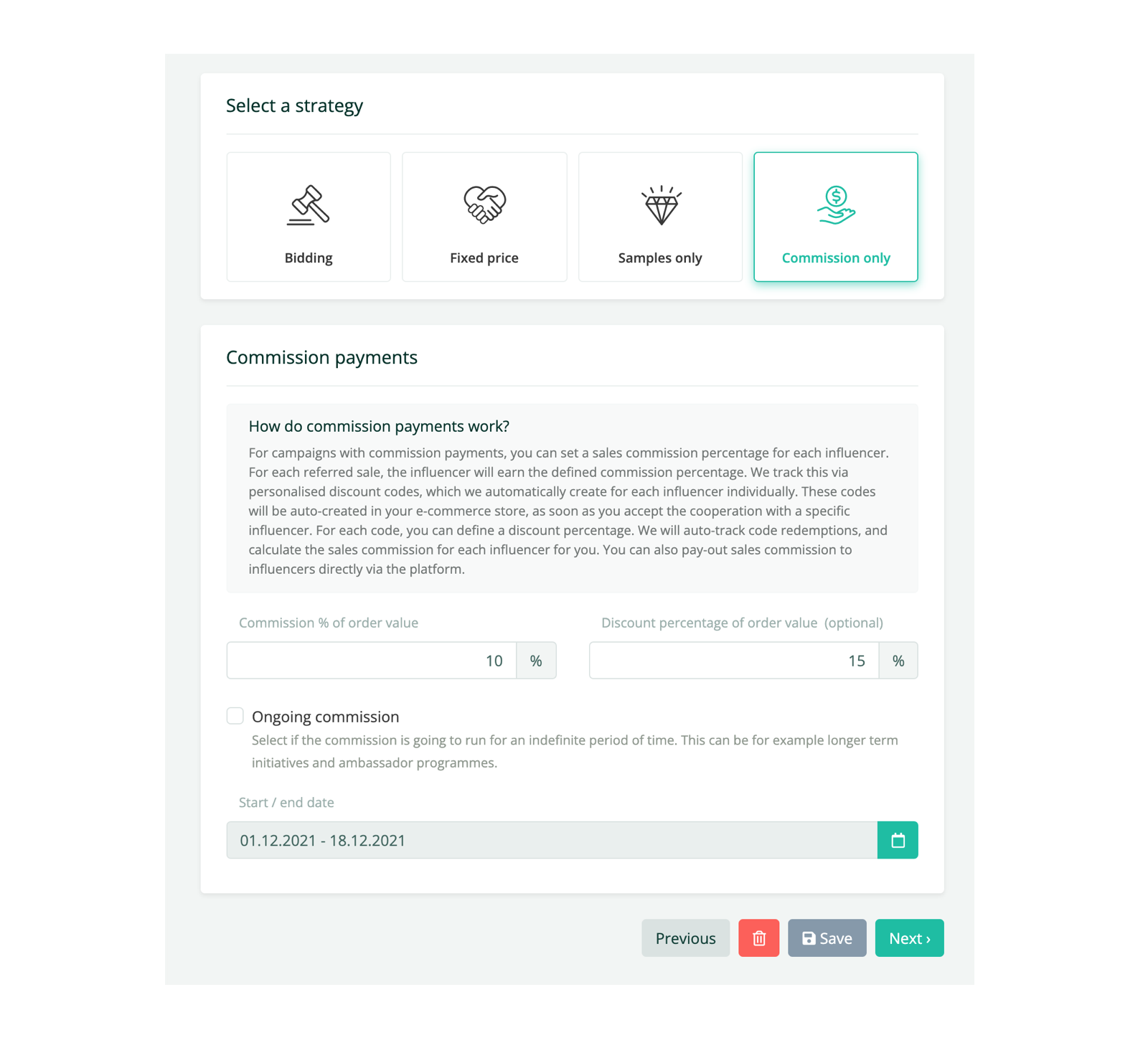 With all those options it can be hard to figure out what the optimal price for a cooperation would be. Don't worry, we've got your back, linkr uses inputs like deliverables, product samples, audience size, engagement rate and demographics data to automatically suggest to you the optimal cooperation price.
Once your campaign is set up, linkr searches its network for influencers that are a great fit to your brand and products. You can then proactively invite them,, addany influencers you might already know to your campaign or wait for applications from our marketplace.
All resulting campaign applications and cooperation proposals are presented to you on the Cooperation Manager. Here all the details you need such as the price, the influencer's history, audience demographics, deliverables, selected samples and much more are shown so you can make an informed decision on who to work with. Once you have decided, just hit accept. Linkr automatically notifies the influencer letting them know when and what to deliver, just sit back, relax and wait for all that traffic, content and sales to come in, once delivered hit pay and we even take care of the invoices and taxes (because who likes that right…) :-)
Ow, one more thing… Are you getting lots of requests from influencers already? Not sure what to do with them? Use our embedded, personalized ambassador programme page to structure those requests, get a free audience quality check from our team on each new proposal you get and integrate those requests straight into your cooperations manager.