Two-thirds of marketers think influencer marketing works by helping them reach more people. Companies are raising their budget share for influencer marketing because it's effective. The effectiveness of this form of marketing stems from the fact that consumers trust recommendations or reviews from strangers.
Brand recommendations and even plain mentions from strangers are important for any business, more so for start-ups. Brands that literally don't have a lot of followers will definitely struggle to make sales unless they leverage someone's influence. But before you can start witnessing the fantastic power of influencer content, you need to set up your campaign first.
Whether your influencer marketing campaign works depends on your setup. Bad setup is bound to cause your campaign to fail, and many marketers screw up this initial phase and initiate a cascade of mistakes that cause the entire strategy to collapse. Now, where do we begin?
---
Know your goals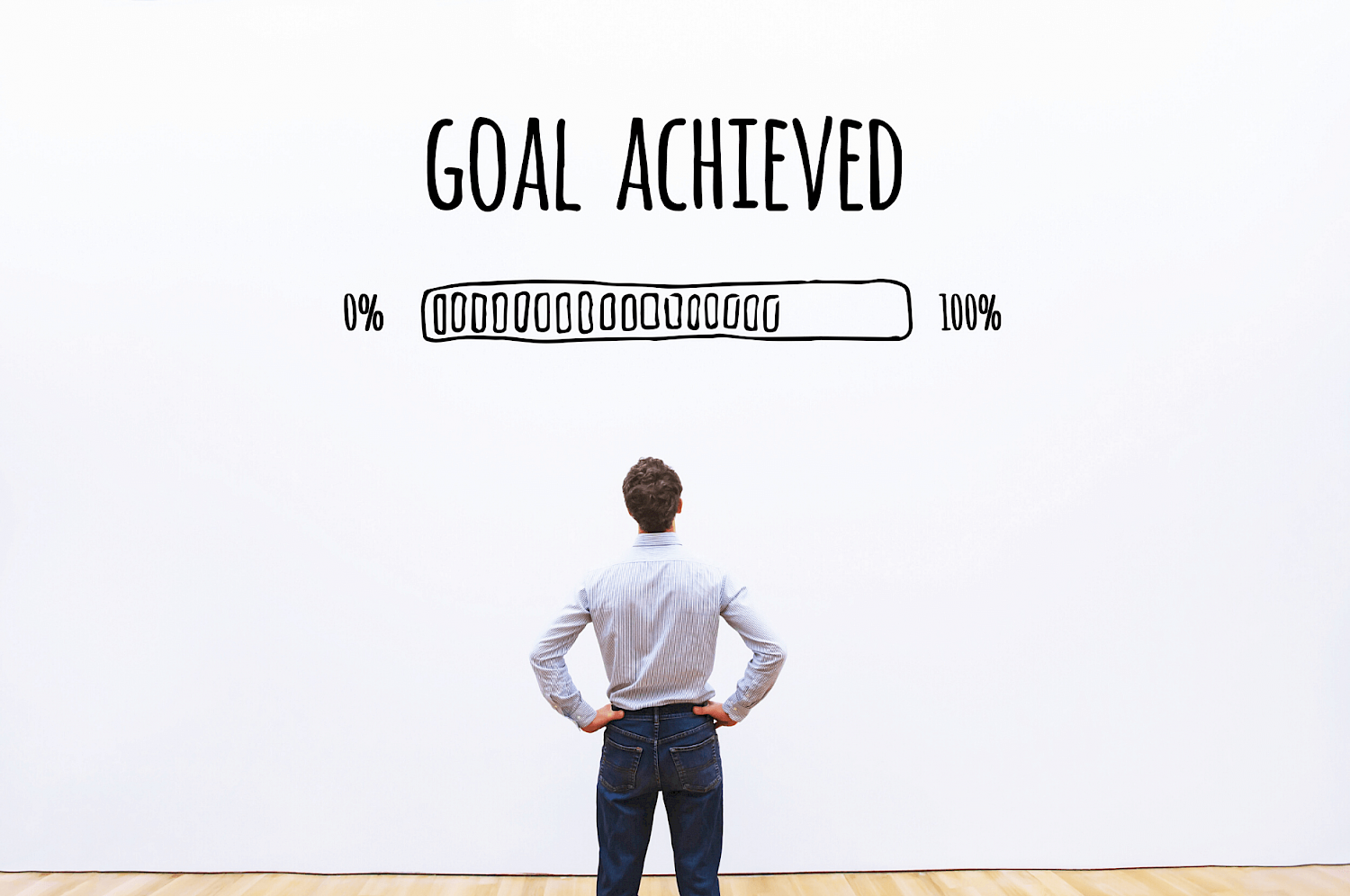 Suppose you're opening a new pizza house in town. So you created a business page on Facebook and Instagram. You're posting updates every now and then. But no one's paying attention. You don't get it because there are only a few pizza houses where you live. Surely, you should be getting calls now, but you're not.
Here's the obvious problem: your message isn't getting to consumers.
Your posts aren't appearing on people's feeds.
You can pay for ads.
Or you can reach out to influencers. But you need to have a clear goal.
Your goal describes what you want to achieve. Do you want more people to know about your pizzas? Do you want more people talk about your business? Do you want more sales? What you want to achieve determines the path of your marketing strategy. More importantly, it determines the role influencers have to play in your campaigns.
A goal should be detailed. It should include the type of influencers you need to work with, the type of audience you want to reach out to, the platforms your campaigns should be brought to, number of posts, among other things.
Over time, some of the variables will have to change. For instance, you may notice that longer YouTube videos get more views, hence the need to tell the YouTubers you're working with to create longer video campaigns. Nonetheless, the initial outline should guide you from the get go.
---
Create campaign briefs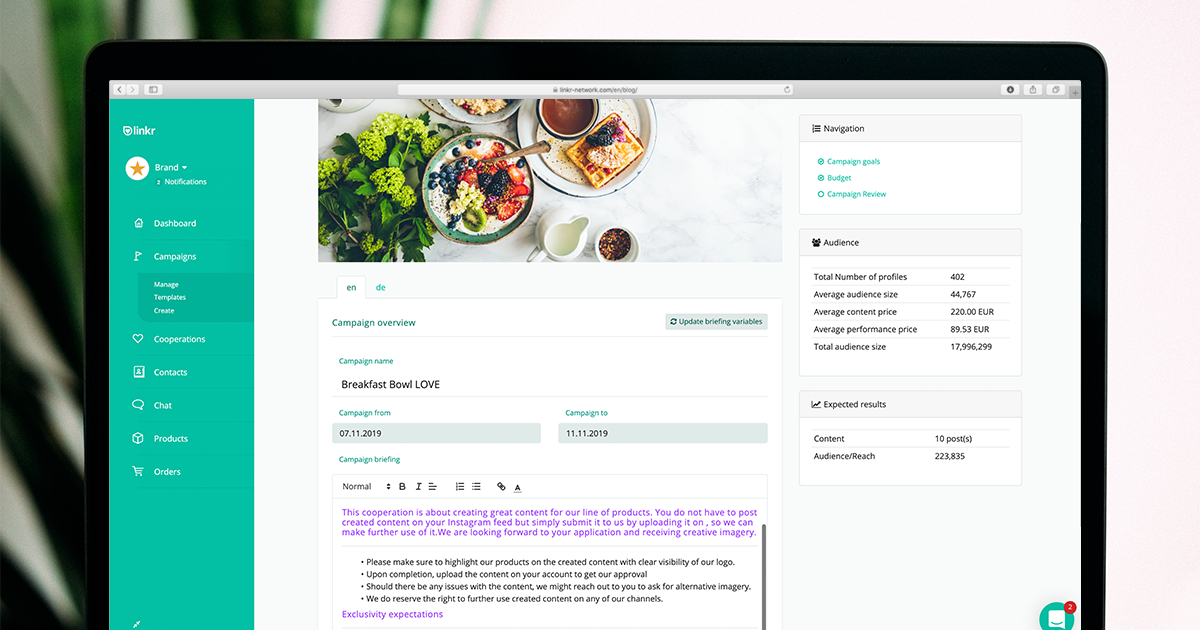 Once you've outlined your goals, it's time to write your campaign guidelines. Properly outlined influencer campaign guidelines make things clear for your content creators.
Because your vision differs from that of the other brands, communicating your vision at the onset provides the influencers you're about to work with a better idea on how to approach your campaign.
When outlining a campaign brief, you should ask yourself the following questions:
Who's your target audience? Any marketing campaign is ineffective without precise targeting. It's like shooting bullets in the dark. Also, who your audience is determines the type of messaging.

What do you want to achieve or accomplish? Knowing this tells you exactly what to track.

What tone do you want to set? There's a specific tone for each type of campaign and for each type of demographic.

When do you want to launch the campaign? Also, how long do you want the campaign to stay on social media?

On which social media platforms will your posts appear? Different platforms have specific audience demographics. Also, certain types of content work best on specific platforms. For instance, lovely images work best on Instagram. Videos are better uploaded on YouTube.

How many posts do you want to be produced during the course of your collaborations?

How much are you willing to spend? Your budget dictates how many influencers you can work with and who you can partner with. But standard packages should guarantee successful influencer campaigns provided you're using the right influencer management platform and working with appropriate partners.

What type of content do you want produced? There are different types of content, and each has its own strengths.
Notice how the variables in your goals become important when you're drafting your guidelines. Nevertheless, companies have struggled with making simple but detailed guidelines. Complicated guidelines confuse and even discourage content creators.
An influencer management tool can help you make fantastic guidelines that don't intimidate content creators. linkr's power campaign templates hastens the planning stage by providing brands ready-to-use guideline formats that remove the need for time-wasting brainstorming.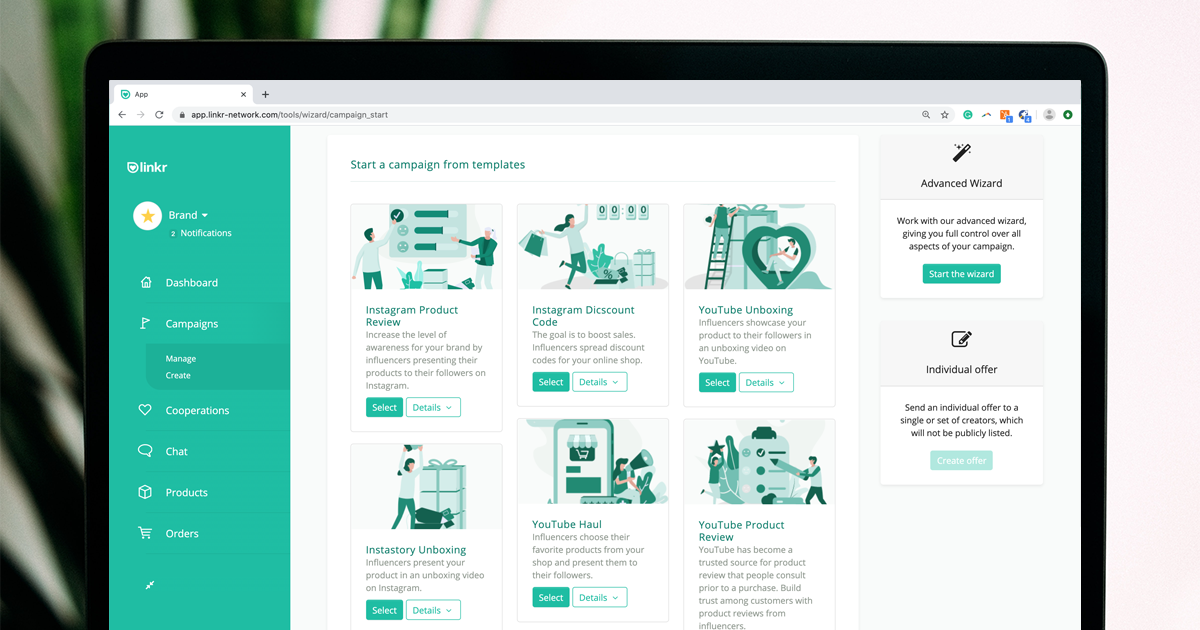 These templates have been tested for efficiency, hence allowing you to start in no time. A reliable campaign template includes your goals, budget, schedule, time frame, among other things.
---
Define key performance indicators
Again, we go back to the importance of goals, which determine what you need to track throughout the course of the campaign. If your investment is at stake, you have more reason to monitor key figures. Typical key performance indicators for influencer marketing are:
Reach

Traffic

Engagement

Conversion
Tracking analytics is one of the reasons why a lot of brands take advantage of influencer marketing automation. Crunching the numbers is hard when you're working multiple content creators.
---
Outline content management specifications
Once you've enlisted your content creators, it's time to let them know what you need from them. Content requirements should be part of every campaign setup regardless of the kind of marketing you're doing. However, when working with people who don't have first-hand knowledge about your brand, it's important to include them in deciding how to execute campaigns.
With an influencer marketing software solution like linkr, cooperation agreements are simplified. You can make individual proposals with specific details, such as channels, product samples, and compensation without wasting too much time sending messages to collaborators one by one.
https://www.instagram.com/p/BZs7JTADqMg/
Remember that a killer influencer campaign should be authentic not only in content but also in intent. Consumers are looking for authentic connections. They want to see the value of your product or service in their lives vicariously through influencers. Only influencers whose values fit your brand's vision can deliver an authentic message. Hence, the need for choosing the right influencers cannot be overemphasized. But that's for our next topic.
Are you ready for your first influencer campaign? We know it's daunting, but the right influencer management platform shall make collaborating with influencers convenient by taking boring tasks away from your schedule. Sign up now for the free starter subscribtion. Or contact us at to learn more.